1955 - 1965
Alfred I. duPont

High School

, Jacksonville, Florida
In Memory
Linda Willard (Chase) - Class Of 1960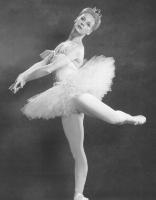 Linda Caddell Chase
March 5, 1942 - April 8, 2019
Linda Caddell Chase passed away on April 8, 2019 after a courageous 10 year battle with lung cancer. She was born in Red Bank, NJ, on March 5, 1942. She was the wife of Fred Caddell, Jr. and the daughter of Dave and Jane Willard.
Linda C. Chase began her early training under the renowned Russian ballerina Hela Slavinska in Red Bank, NJ. At age thirteen she joined the Ballet Guild of Jacksonville, Florida directed by former ballerina of New York City Ballet, Betty Hyatt Ogilvie. She has trained with the most prominent teachers in the dance world: George Balanchine, Felia Doubrovska, Pierre Valdimiroff, Anatole Oboukoff, Robert Joffrey, Igor Swetzoff and Matt Maddox. It was in Atlanta, Georgia that Mr. George Balanchine, world renowned director/choreographer of New York City Ballet, awarded her a full dance scholarship to attend the School of American Ballet in New York City.
DANCEMAGAZINE highlighted Ms. Chase in their article on Regional Ballet Festivals after viewing one of her performances. While living in Rome, Georgia, she and Anneliese Mathews formed the Rome Dance Academy. She continued her school in Rome after moving to Cartersville, Georgia and establishing the Cartersville Dance Academy. In 1970, she moved to Valdosta, Georgia with her two children and husband. In 1971, she opened the Valdosta Dance Academy teaching all levels of ballet along with tap and jazz. Through her efforts, Valdosta audiences saw their first performance of The Nutcracker in 1972. This began an eagerly received annual tradition. When Ms. Chase moved her studio in August 1989 to its present location at 1760 W. Gordon Street in Remerton/Valdosta, she changed the name to Dance Arts.
Linda's Dance Arts students have auditioned and have been accepted to such well known professional schools as American Ballet Theater, Ballet West, Boston Ballet School, Brigham Young University Summer Intensive, Central Pennsylvania Youth Ballet, Dance Aspen Colorado, Florida State University Summer Intensive, the Governor's Honors Program, the Joffrey School Ballet, Kansas City Ballet, North Carolina School of the Arts, Nutmeg Conservatory for the Arts, Orlando Ballet School, Pacific Northwest Ballet, Princeton University, the Rock School for Dance Education, The School of American Ballet, South Carolina Dance Institute and Virginia School of Arts.
She inspired students to declare their Dance Major or Minor at the University of Georgia, Kennesaw State University, Brenau University, Jacksonville University, University of Utah, Belhaven College, Florida State University, The University of Tennessee, and Valdosta State University.
Students have gone on to dance professionally with Alonzo King's Lines Ballet, American Ballet Theater, Atlanta Festival Ballet, Atlanta Ballet, Charleston Ballet Theater, The Houston Ballet, The Lexington Ballet and The Trey McIntyre Project.
Linda Chase was the epitome of a fantastic educator. For 48 years she impacted thousands and thousands of this community's children well into their adulthood. Linda instilled not only the love of dance, but taught responsibility, dedication, endurance, integrity, perseverance, and respect. She taught that things which are valuable do not come easy and must take hard work to achieve. For that many became so proud of themselves, a true gift from her.
Mrs. Chase is survived by her son Frederick Bolin Caddell, III, brother David Willard and his three sons Tim, David, and Kevin, and her fur baby Ruby. She was preceded in death by her mother and father, and her daughter Melinda Ellen Caddell.
A memorial service will be held on Saturday, April 13, 2019 at 4 p.m. at Park Avenue United Methodist Church with Reverend David Tart officiating. The family will receive friends on Friday from 5-8 p.m. at the Carson McLane Funeral Home. In lieu of flowers memorials may be made to Moffitt Cancer Center, MBC-Found, 12902 Magnolia Drive, Tampa, FL, 33612. Condolences to the family may be conveyed online on the obituary page at www.mclanecares.com. Carson McLane.
Published on April 10, 2019