1954 - 1965
Alfred I. duPont

High School

, Jacksonville, Florida
In Memory
John Keyton (Assistant Principal)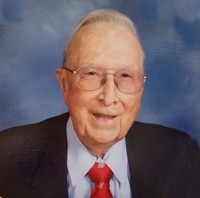 John Arthur Keyton, Jr., age 91 went home to be with the Lord on April 6, 2017. He was surrounded by his children, grandchildren and love. He was born at home on North Oates Street in Dothan, Alabama on September 28, 1925. He attended school in the Dothan, Alabama School System, attending Dothan High School through the 11th grade and graduated from Marion Military Institute. Following this, he enlisted in the Army of the United States during WWII and was a member of Gen. George Patton's 3rd Army as a tank driver.
He was part of the liberation force of Dachau Concentration camp and he later served as an ambulance driver. After the war, he ran a medical aid station in Passau, Germany and Rothenberg o.d. Tauber, Germany being Honorably Discharged as a Technical Sergeant in 1946. After the war, he returned home to Alabama and attended Stetson University, in DeLand, Florida where he obtained his BA in History in 1951. That same year he married the love of his life and his best friend Betty Wood Pearson of Enterprise and Dothan, AL. He completed his MA in Education, at Stetson in 1953. Following this, he taught at several schools in Florida. Obtaining a teaching job in English and History at Alfred I. duPont Jr-Sr High School in 1953. In 1959, he was selected to become one of the youngest Principals of one of the largest High Schools in the State of Florida. He remained at DuPont for 17 years, moving to Southside Jr. High School for 2 years before finally returning home to Dothan as the Assistant Principal of his Alma Mater, Young Jr. High School. He later served as Principal of Girard Jr. High School and retired as the Assistant Principal of Dothan High School.
He was preceded in death by his wife, Betty Wood Pearson Keyton (Woodsy), and his parents John Arthur Keyton, Sr., MD, and Joyce Katherine Williams Keyton. He is survived by his children Elizabeth (Betsy) Garie Keyton, John Arthur Keyton, III, DMD (Christy) of Dothan, and Joyce Anne Keyton Cary (Robin) of Pensacola, Florida. He is also survived by his grandchildren, Kaitlin Elizabeth Wagner, Jackson MS, Rachel Pearson Wagner, Pensacola, FL, John Arthur Keyton, IV (Beverly), Fultondale, AL, Mathew Wood Keyton (Linnea), Nashville, TN, William Gilbert Keyton, Jordan Thomas Keyton, Mary Elizabeth Keyton, Katherine Joyce Keyton, Pearson Edward Keyton, and Hannah Grace Keyton, all of Dothan, AL, and a special Granddaughter of the heart BreyAnn Jordan. He is also survived by a sister, Betty Anne Keyton Weissinger, and cousins, Dorothy Sawyer McGill, Jacksonville, FL and Jan Martin, PA as well as many nieces and nephews and great nieces and nephews.
His legacy remains the many lives that were touched and changed throughout his years working with youth in Education. He was a faithful member of First United Methodist Church and the Pathfinders Sunday School Class. He also found many friends at the Dorothy Quick Senior Center. Pallbearers will be Lawrence Newton, Dr. Dan Denny, Joe M. Sanders, Jr., Tom Norman, Charles Waid, and Dr. David Gayle. The family will receive friends in the First United Methodist Church Parlor from 1-2 pm on Sunday, April 9th with the service to follow in the sanctuary at 2 pm. Burial will be at the Dothan City Cemetery with Military Honors. Robert Byrd of Sunset Memorial Park Funeral Home (334) 983-6604 www.SunsetMemorialPark.com