1954 - 1965
Alfred I. duPont

High School

, Jacksonville, Florida
In Memory
Carol Kemp (Holbrooks) - Class Of 1958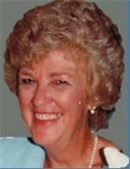 Carole Anne Holbrooks passed away on July 6, 2016. She was born on July 9, 1940 in Washington, D.C. and was the daughter of Richard and Priscilla Kemp. She graduated from Dupont High School and attended Jacksonville University. She began working at GMAC where she met her future husband, Victor. After marriage she worked part time in a variety of jobs while raising her family.
She loved all types of sports, especially playing tennis with her BFF Miriam Burkhart and her other tennis buddies. She was also a big fan of the Florida Gators and the Jacksonville Jaguars. Ultimately, her family was the center of her life and she will be missed by all of them. She was predeceased by husband Victor, her husband of 54 years, and survived by a son, Kevin (Nicole), daughter, Amy (Walter), and four grandchildren; Bailey, Allison, Cassidy, and Erin. Anne was a longtime member of Assumption Catholic Church.
Mass of Christian Burial will be celebrated at 10:00 AM on Wednesday, July 13, 2016 in Assumption Catholic Church, 2403 Atlantic Blvd Jacksonville, FL, with Father Jose as Celebrant. Calling hour will be 30 minutes prior from 9:30-10:00. In lieu of flowers, the family requests donations be made in Anne's name to the American Cancer Society
.
Please Sign the guestbook at www.hardagegiddensoaklawnchapel.com
HARDAGE-GIDDENS, THE OAKLAWN CHAPEL, 4801 San Jose Blvd is serving the family.
Published in the Florida Times-Union on July 11, 2016-