In Memory
Vivian Rogge (Pechefsky) - Class Of 1958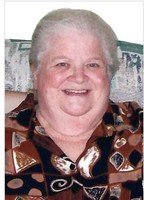 Vivian C Pechefsky, 72, of Blue Springs, MO passed away Tuesday, September 10, 2013. Vivian was born January 18, 1941 in Falls church, VA to Walter and Vivian (Dotterer) Rogge. She was united in marriage to John J. Pechefsky who preceded her in death. She worked for Control Data. She was a Catholic by faith. Vivian enjoyed cross stitching. In addition to her husband John, she was preceded in death by her parents.
She is survived by her daughters, Theresa L. Straw of Blue Springs, MO, Margaret A. Berndt of Blue Springs, MO, Mary E. Green and husband Robert of North Kansas City, MO; sister, Carolyn Papevies of Brookville, PA; brother, David G. Rogge and wife Frieda of Stanford, KY; grandchildren, Jennifer Warren, Kaleb V. Branum, Kelea A. Branum, Ethan P. Straw, Russell Schmidt, Katelyn Steinhurst, Richard Green; and 6 great grandchildren.
Vivian has been cremated according to her wishes and no services are planned at this time. Arrangements entrusted to Meyers Funeral Chapel, 1600 W. Main St., Blue Springs, MO. Memories and condolences for the family may be left at www.meyersfuneralchapel.com.